SEALTERA is a project co-financed by the European Regional Development Fund (ERDF), within the Operational Program for Smart Growth 2014-2020, with the aim of enhancing research, technological development and innovation.

The main objective of this R&D project is the design, calculation and optimization of cartridge mechanical seals for centrifugal pumps with applications of new materials, reducing the mass of the seals and reducing the construction complexity. As well as, the manufacture of prototypes and definitive models that allow the solution of leakage problems in this type of hydraulic equipment, allowing the adaptation of seals to different geometries.
The aim is to increase productivity and efficiency in industrial processes of all types that use centrifugal pumps to circulate their process fluids.
The aim is to develop a series of mechanical cartridge seals with affordable prices for any company, since at present there are a number of leading companies that monopolize almost the entire market with abusive prices that cause that certain companies cannot acquire this material. And also to solve leakage problems in all types of centrifugal pumps, designing and manufacturing seals that adapt to different diameters and operating principles.
The project was divided into 3 main activities:
Activity 1: Development of the new cartridge mechanical seal system.
In this activity, a study of the art was carried out to frame the project in a clearer way, establish the project guidelines and focus efforts on the most critical points.
The calculation and design of the closures was then carried out.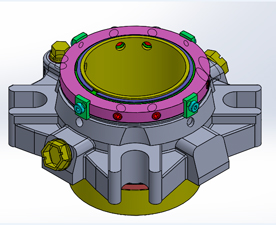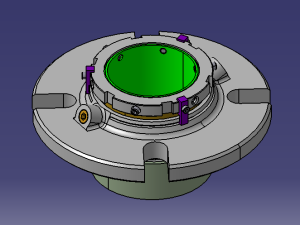 Activity 2: Construction of semi-industrial equipment.
Once the construction project was finalized, using the bill of materials and the final 3D CAD, as well as the drawings generated, the appropriate material was procured and the cartridge seal was built.
Activity 3: Equipment validation.
Once the equipment was assembled, 3 types of tests were carried out:
-Visual inspection
-Pneumatic test
-Hydraulic test
The mechanical seal successfully passed all 3 tests.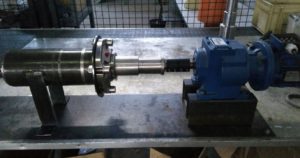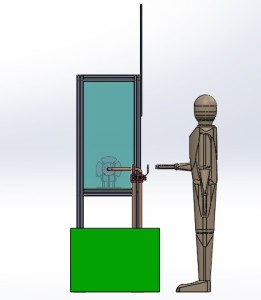 Conclusions
The technical objectives of designing the mechanical cartridge seal, manufacturing the prototype and validating it through the relevant tests have been satisfactorily met within the planned execution period.
The mechanical seals manufactured are very reliable, as they are installed in an important company in Vigo.
However, despite the reliability of the developed product, the cost of the product is higher than that of the competition in terms of retail price.
This is mainly due to the fact that the number of seals manufactured is much lower than that of the competition, so the production cost of the suppliers is higher. This also includes the initial investment for industrialization, test equipment for testing, personnel training, engineering, etc.
Therefore, our future objectives will be focused on reducing manufacturing and assembly costs, finding cost-effective suppliers and optimizing design.